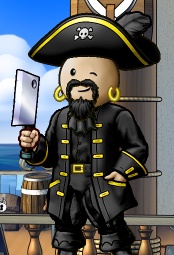 Blackbone plays mainly on the Sage Ocean. He is captain of the crew Infernal Crimson Elite, prince of the flag Notorious all on the Sage Ocean.
Blackbone is a talented trader and as such was given responsibility for ensuring that the Isle of Kent be a stronghold and profitable home for Notorious. He has managed the Isle of Kent brilliantly for the flag that he remains loyal and committed to.
Blackbone took a step back from PP, when Saluteme left Notorious, to allow the new leadership to reshape the flag.
Blackbone has a reputation as one of the most consistently kind and generous pirates on Sage and was a vital part of the strength of the Notorious Leadership. His essential kindness built relationships throughout Sage especially in the Merchant Networks which expanded the potential of Notorious especially when the visionary radical merchant Mindless joined Notorious.
Achievements
Edit
Captain of Infernal Crimson Elite
Prince of Notorious
Governor of the Isle of Kent - Every time when Notorious held it
Personal Thanks
Edit
Me missed ye! ~ML
The article is a Stub!
Mindless says, "This article needs more content, stop messing around and add to it right now!"

Please expand the article as well as you can!