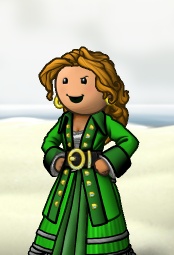 Wutsup is officer of Swashbucklers of Sage and a member of Notorious. She is a commander in the Descartes Isle Navy in the Pelican Archipelago and sails the Sage Ocean.
Wutsup first began her piratey career on viridian, but later moved to sage upon it's creation. In the first few days of Sage her and a group of hearties created a crew called The Lime Green Cabbages. The Lime Green Cabbages was a successful, friendly crew but eventually most of it's officers went on to bigger and better things. As the crew began to fall apart, Wutsup joined the Swashbucklers of Sage, a crew created by an old officer of TLGC. She still resides as a senior officer of SOS.
The article is a Stub!
Mindless says, "This article needs more content, stop messing around and add to it right now!"

Please expand the article as well as you can!